The Price of Cricket Kit Bags: A Comprehensive Guide
Introduction
Cricket is a sport that demands precision, technique, and top-quality equipment. Among the essential items in a cricketer's arsenal is the cricket kit bag. The price of a cricket kit bag can vary significantly, depending on various factors.
In this comprehensive guide, Freep Sports 247 will delve into the world of cricket kit bags, exploring their types, features, and, most importantly, their prices. Whether you're a seasoned cricketer or a beginner, this article will help you make an informed decision when purchasing a cricket kit bag.
Price of Cricket Kit Bag
When it comes to the price of a cricket kit bag, one size certainly does not fit all. These bags are available in a range of styles, sizes, and materials, which directly affect their cost. Here's an overview of the factors influencing the price:
Bag Material:
The material of the bag plays a crucial role in determining its price. Common materials include nylon, polyester, and high-quality leather. Leather bags are the most expensive due to their durability and premium feel.
Bag Size:
The size of the bag matters, especially if you have a lot of cricket gear to carry. Larger bags are generally more expensive, but they offer ample storage space for all your equipment.
Brand Reputation:
Well-known brands often command higher prices for their cricket kit bags. However, their products are typically of superior quality and come with warranties.
Features and Accessories:
Additional features such as multiple compartments, padded straps, and ventilated pockets can add to the cost. These features, though, can greatly enhance your convenience and comfort.
Design and Aesthetics:
The design and aesthetics of a cricket kit bag can also impact its price. Bags with unique designs or team logos might cost more.
Wheeled vs. Non-Wheeled:
Some cricket kit bags come with wheels for easy transportation. While these are convenient, they tend to be pricier than non-wheeled options.
Seasonal Discounts and Sales:
Keep an eye out for seasonal discounts and sales events, which can significantly reduce the price of cricket kit bags from top brands.
Now that we've covered the factors influencing the price, let's explore different types of cricket kit bags and their respective price ranges.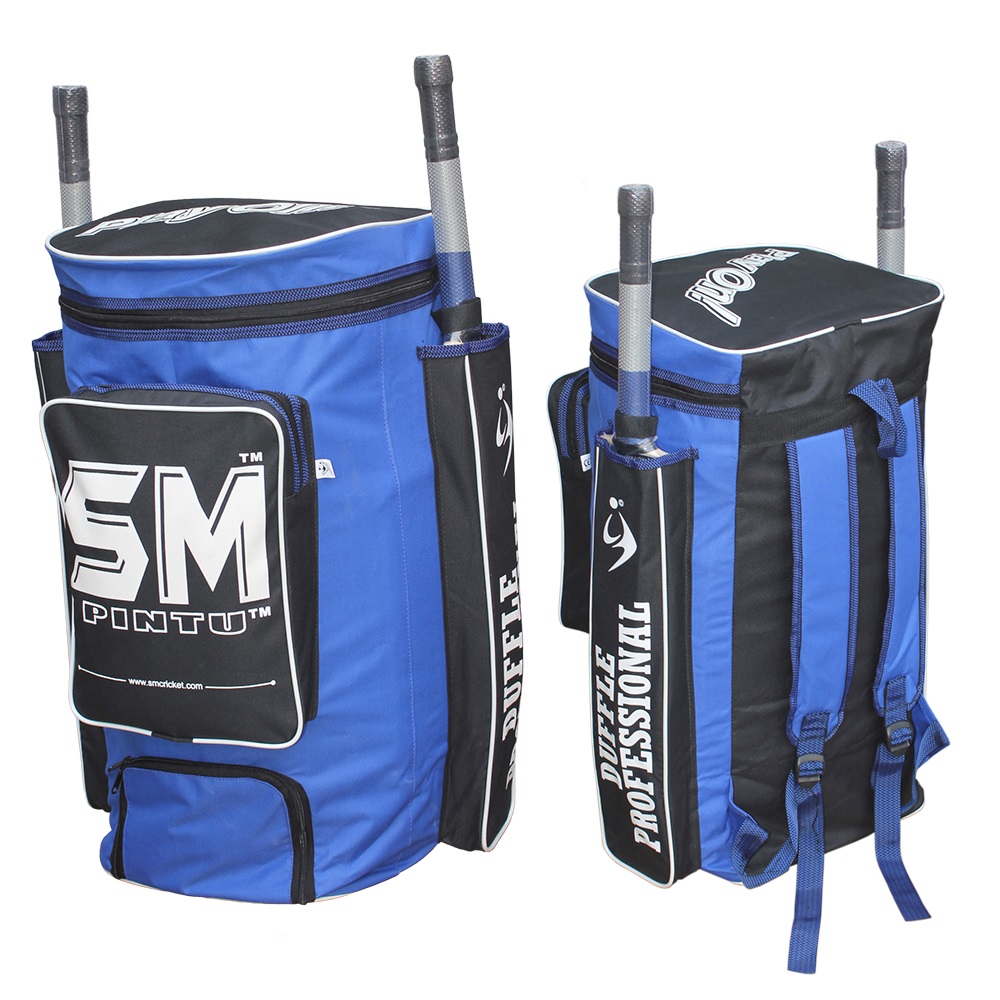 Related Article: Benefits of Pro Duffle Cricket Bag for Beginner Cricketers
Types of Cricket Kit Bags
There are many distinct sorts of cricket kit bags, each serving a different purpose.
Here Are The Most Common Types And Their Price Ranges:
Duffel Bags:
Price Range: $30 – $150. Duffel bags are the go-to choice for many cricketers. They are compact, easy to carry, and can accommodate essential gear.
Backpacks:
Price Range: $20 – $100 Cricket backpacks are lightweight and offer good storage options for players who prefer a hands-free approach.
Wheelie Bags
Price Range: $80 – $300 Wheelie bags come with wheels and a retractable handle, making them incredibly convenient for transporting heavy gear.
Professional Kit Bags
Price Range: $150 – $500 Designed for serious cricketers, professional kit bags are spacious and durable, often featuring multiple compartments and premium materials.
Junior Cricket Bags
Price Range: $20 – $80. Tailored for young cricketers, these bags are smaller in size and budget-friendly.
Frequently Asked Questions (FAQs)
What Should I Consider When Buying A Cricket Kit Bag?
When purchasing a cricket kit bag, consider factors such as material, size, brand reputation, features, and your budget. Think about the gear you need to carry and choose a bag that accommodates it comfortably.
Are Leather Cricket Kit Bags Worth The Higher Price?
Yes, leather cricket kit bags are worth the investment due to their durability and premium quality. They can withstand rough handling and protect your gear effectively.
Can I Find Budget-Friendly Cricket Kit Bags That Still Offer Good Quality?
Certainly! There are budget-friendly options available that provide decent quality and functionality. Look for reputable brands offering affordable choices.
Do I Need A Wheeled Cricket Kit Bag?
Wheeled cricket kit bags are beneficial if you have a lot of gear or need to transport your equipment over longer distances. However, they are only essential for some.
Are There Any Eco-Friendly Cricket Kit Bag Options Available?
Yes, some brands offer eco-friendly cricket kit bags made from sustainable materials. These bags are an excellent choice for environmentally conscious cricketers.
How Can I Find The Best Deals On Cricket Kit Bags?
To find the best deals, keep an eye on online retailers, subscribe to newsletters, and follow cricket equipment brands on social media. You can also explore discounts during cricket seasons and festivals.
Conclusion
In conclusion, the price of a cricket kit bag varies depending on factors like material, size, brand reputation, and features. To make an informed choice, assess your needs and budget carefully. Remember that investing in a high-quality cricket kit bag is a great decision to protect your valuable gear and ensure a hassle-free cricket experience.
Before making a purchase, explore different types of bags and consider the price range that suits you best. Whether you're a junior player or a seasoned pro, there's a cricket kit bag that fits both your needs and your budget. So, gear up, head to your favorite sports store, and choose the perfect cricket kit bag for your game.